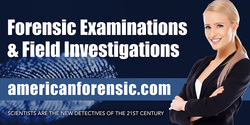 AMERICAN FORENSIC TECHNOLOGIES

FORENSIC SCIENCE & ENGINEERING EXAMINATIONS, ANALYSES, AND INVESTIGATIONS
---
Professional Investigations
American Forensic Technologies
is a licensed Private Investigative Agency in the State of Florida and elsewhere in the USA. We are able to provide traditional investigative services to our clients and potential clients. But, we normally restrict our investigative activities to cases in which we are providing forensic services, as a value added service for our clients. We can however provide field investigations independent of forensic services, and other services for a variety of civil and criminal matters. Including, but not limited to:
Unlawful drug activity investigations at housing complexes, nightclubs, etc.
Cargo theft and fraud activity investigations at airports, seaports. port authorities, etc.
Corporate employee intellectual property theft, and other corporate security and forensic issues.
Witness and suspect interviews.
Skip tracing, locating material witnesses and suspects, etc.
Protective services for witnesses, and other persons that may be at risk, which are involved in any type of civil or criminal investigation and/or litigation.
Executive protection services.
Firearms training for Florida CCW and G Licenses. Click here for firearms training services.
Private Investigators have been actively involved in the delivery of justice in the various local, county, state, and federal courts throughout the USA for more than 160 years. Private investigators play a vital role in finding and interviewing witnesses and suspects, locating wanted persons, finding and retrieving records and other important information, performing background investigations, addressing corporate security issues, providing protective services, etc. Our system of justice could not function properly without the existence and direct involvement of
Professional Licensed Private Investigators
.
The State of Florida requires licensing of any agency wishing to conduct business as private investigators. The State of Florida also requires licensing of the agency manager, all agency investigators, and private investigator interns. Report unlicensed activity.
---
Website Content Copyrighted ©, All Common Law and Statutory Rights Reserved by
American Forensic Technologies LLC