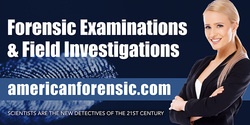 AMERICAN FORENSIC TECHNOLOGIES

FORENSIC SCIENCE & ENGINEERING EXAMINATIONS, ANALYSES, AND INVESTIGATIONS
---
FORENSIC NEWS
New Web Links:

http://www.lawdiary.com/entries/entry/Experts/129/384/AMERICAN-FORENSIC-TECH
NOLOGIES-LLC/2/3/Experts-Firearms
http://www.lawdiary.com/entries/entry/Experts/129/383/AMERICAN-FORENSIC-TECHNOLOGIES-LLC/1/3/Experts-Firearms

Wesley Millett
joins American Forensic Technologies LLC as an experienced consulting engineer and investigator. He is a mechanical engineer by training and education, with extensive experience working for defense contractors. He has also worked as an engineer on independent design and engineering projects, and possesses additional experience working as an investigative journalist.

Ramiro Sanchez Chavez
joins American Forensic Technologies as an experienced materials engineer and chemist. He has worked in the past for the Colombian government and in academia as well. He is now an independent forensic scientist/engineer stationed in Colombia and provides American Forensic Technologies LLC with the ability to follow forensic and investigative case work into South America.
American Forensic Technologies LLC
will now be offering Firearms Training and Forensic Firearm Identification classes to qualified lawyers, judges, forensic technical professionals and investigators starting this coming new year. Click
here
for class schedules.
Website Content Copyrighted ©, All Common Law and Statutory Rights Reserved by
American Forensic Technologies LLC


Scientia Non Habet Inimicum Nisp Ignorantem